The District of Saanich has begun important sewer projects, including other renovations in town set to begin in early fall. So far, the sanitary sewer improvements that are currently in progress are the Quandra St. main between Kenneth and Nicholson streets. Residents in the surrounding areas will encounter lane closures during this construction and it may be advisable to consider alternate routing. We are anticipating the renovations to be near to end by September. Other area projects in Saanich, to be completed by the end of this year, are Queensbury Ave, Longview and Newbury St. sewer pipelines. The District is working diligently to complete these sewer upgrades and appreciates your patience during construction.
Perma-liner Industries has been rehabilitating underground infrastructures since 1999 and we are pleased to offer you our state of the art trenchless equipment. Our Pull in Place Perma-Lateral Lining System means we keep your floors, landscaping and walls intact. To learn more about our Cured in Place Pipeline System call us or go online to www.perma-liner.com. We are here to help!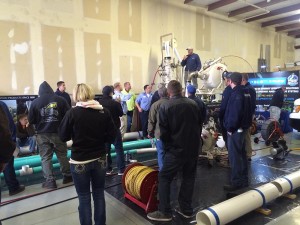 SAVE THE DATE!!
Mark your calendars because you won't want to miss this! On September 23rd, Perma-Liner Industries is hosting a very special event and we'd love to see you there. Our Open House will be held at our Plainfield, Illinois facility. We'll have our excellent staff on hand to answer all of your questions about our Cured-in-Place Pipeline products and our state of the art trenchless technology. Come out and see live demonstrations, share friendly conversations and gain information. Meals will be provided. Please register at no cost: info@perma-liner.com or 1-866-336-2568. Click Here to Register!