The North American Society for Trenchless Technology's British Columbia Chapter (NASTT-BC), the Centre for Advancement of Trenchless Technologies (CATT), and Benjamin Media are pleased to announce the 2015 Trenchless Technology Road Show in Richmond/Vancouver. This show will consist of two full days of technical presentations and exhibits bringing you the latest advances in trenchless technology. Moreover, industry-leading experts will conduct three pre-event technical workshops on November 17, 2015. Topics covered include methods and materials for planning, design, installation, assessment and management of water and wastewater systems.  Perma-Liner Industries is the leading supplier and manufacturer of trenchless pipeline rehabilitation equipment and materials in North America.  Since 1999, engineers have developed systems to rehabilitate existing sewer systems without excavation.  Our experience in the CIPP industry has allowed Perma-Liner to design, patent and manufacture state of the art technology.  Your success is our success!  Perma-Liner does not charge Franchise Fees.  We succeed when you succeed!  We provide a solid partnership plan that delivers real savings to our clients.
Vancouver, Perma-Liner Industries has more great news!   We've got a profit making powerhouse in our inventory and it's our 22 foot Perma-Main™ Top Gun Trailer system.  Training is included with this package deal and it's our best 'turn-key' solution we have for you to replace a conventional dig.  This impressive system can rehabilitate 6"-10" diameter pipelines. It also comes with a zero down, no payment for 90 days offer.  Call us or go online to find out more. 1-866-336-2568 or www.perma-liner.com.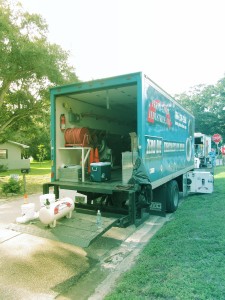 Interesting fact:
Captain George Vancouver (22 June 1757 – 10 May 1798) was an English officer of the British Royal Navy, best known for his 1791–95 expedition, which explored and charted North America's northwestern Pacific Coast regions, including the coasts of contemporary Alaska, British Columbia, Washington and Oregon.